Build on a future-proof cloud platform
Get the flexibility, security and scale
you need with Genesys Cloud.
Trust the platform designed with disruptors in mind
One of the world's largest cloud contact centers builds on the Genesys Cloud™ platform to empower more than 30,000 peak agents to serve customers in new ways.
Companies like this grow exponentially by changing the future of their industry. And they rely on technology partners with the same passion for evolution.
Built by disruptors, the Genesys Cloud platform is transforming the contact center industry by delivering innovation to companies of all sizes, everywhere. There's a reason it's a leading platform for seamlessly integrating voice and digital channels — empowering agents, delighting customers and creating better business outcomes overall.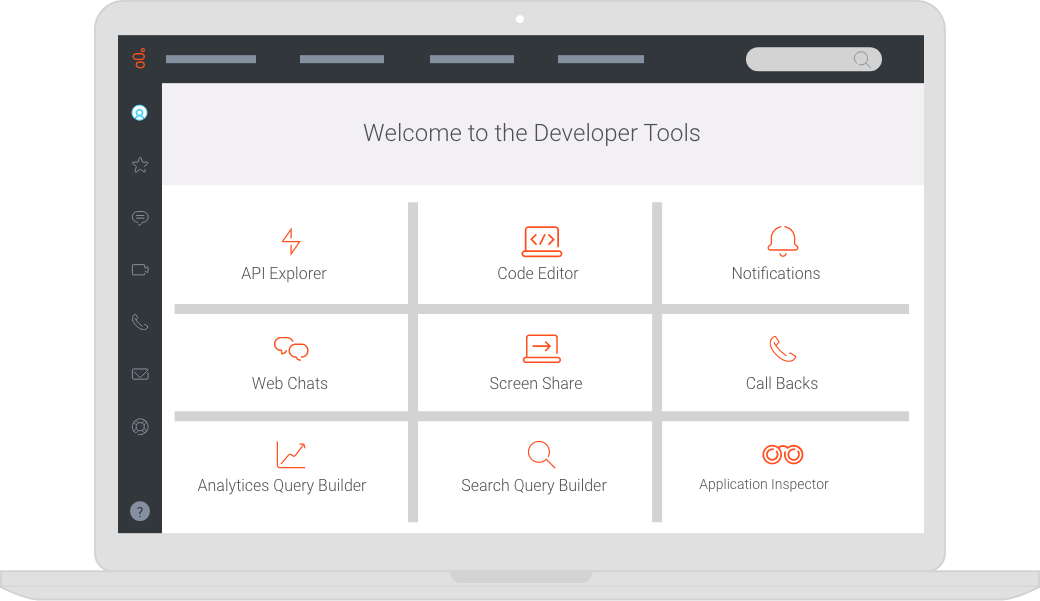 See how an enterprise customer goes global with over 900 agents to personalize the digital buying experience for more than 5 million members worldwide.

Stay fresh and innovative
The cloud is your playground for hypergrowth, providing the flexibility and speed you need to get ahead. But many clouds have monolithic architectures that are connected to antiquated methodologies and restrictive operations. The Genesys Cloud platform is built differently; it delivers the agility, efficiency and resilience you need to reliably respond to change.
Scalable cloud-native architecture
The Genesys Cloud platform is designed to take full advantage of modern cloud strategies and technologies. Microservices, API-first development, open data and artificial intelligence (AI) give you rapid innovation, agility and resilience.
Continuous cloud delivery
We use Agile development practices to balance speed, predictability and quality, as well as DevOps methodologies to combine forces with operations. The Genesys Cloud platform knits these modern approaches together so you can quickly adapt to change.
Less worry, more efficiency
Through global public cloud services that allow our engineers to treat infrastructure as code, the Genesys Cloud platform gives you unmatched scale, security, uptime and continuity. Worry less about human errors bringing you down or getting in your way.
Core region
  Satellite region (coming soon)
Global regions
The Genesys Cloud platform is designed to provide maximum geographical coverage for companies worldwide.
Build on a solid foundation for dynamic customization
Buy a powerful, all-in-one solution to establish your new foundation in the cloud. Build the rest — creating the ideal mix of capabilities for your unique business needs — through a continuously evolving platform that empowers users of all technical levels to differentiate. And gain the flexibility to consume services the way you want.
All-in-one solution
Add simply
Extend easily
Develop powerfully
Consume flexibly
Trust with transparency
You have to be able to trust the cloud solutions and platforms you use. That's why we openly seek and publish information about protection and performance.
Security
Security is our top priority. We ensure your data is protected at all times and are constantly innovating to keep it that way.
Privacy
Your data is safe, and you have full control over it. We stay on top of the latest privacy developments so that doesn't change.
Compliance
Regular audits and certifications ensure our cloud service meets a wide range of standards and compliance regulations.
Transparency
Go online anytime to see our security policy and performance — operational status, availability metrics and incident history.
There's good reason to choose Genesys Cloud
Grow globally without limitations, rapidly deploy innovations, empower your employees, give developers all the tools they need — and more. Discover six reasons to choose the Genesys Cloud platform.
We have options to fit your needs
See everything you can do with Genesys Cloud.
Request a demo to see how Genesys Cloud enables fluid conversations across digital and voice channels in an easy, all-in-one interface.
Discover how your company can reap the benefits of a speedy deployment and simple administration, transforming your contact center into an experience center virtually overnight.
Thank you for your interest.
We'll contact you directly to set up a date and time that works with your schedule.